Wednesday Night (22nd March) will see the first performance of Balbriggan Community College's  Transition Year drama production. As the first ever Transition Year at BCC the group have chose a stage and screen classic in 'Grease' to debut their talents. The students as managing every aspect of the production themselves from acting to costumes and crew to the publicity of the event itself.
Tickets cost €10 for adults €7 students and seniors and €5 for under 12's  or €25 for a family of 4 and are available on the door. We hope you can all come out to join us on either Wednesday or Thursday.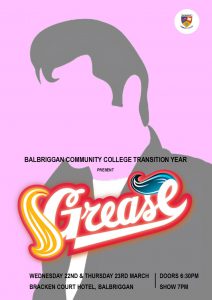 See Balbriggan.info for some great photos from our opening night.