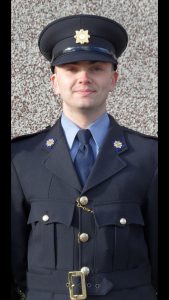 Balbriggan Community College would like to congratulate past student and school captain Ciaran Harford on his recent appointment as a member of An Garda Siochana.
Ciaran received his warrant card along with 98 others at a graduation passing out parade for the newest members of the service last Thursday at the Templemore Training College in Co Tipperary.
Ciaran is one of only approx 180 new members to graduate from the re-vamped course, since recruitment stopped in 2009.
We wish him every success in his new career and look forward to seeing him on the streets of Dublin city in the not to distant future.