Congratulations to our Senior Basketball team who played against Skerries today. Well done!
Result: 25:20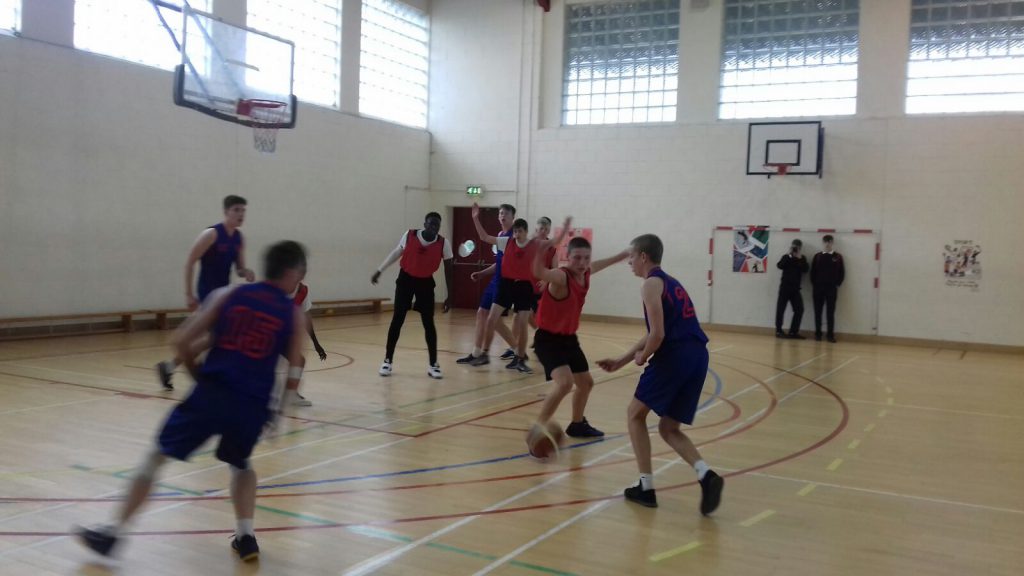 Our Under 19's Boys team got the return of basketball to BCC off to a great start with success in their first two games of the season against experienced sides from Trinity Comprehensive School on Tuesday and Skerries Community College on Friday 7th October.
It was a tough starting week for the team made up of students from 3rd-6th year but under the tutelage and watchful eyes of Mrs Grant and Ms Murry the team were more than up to the challenge.
On Tuesday in the first match the school has fielded a team for in 6 years, and with only two week training under their belts, the boys fought hard against a strong and aggressive attack from Trinity struggling at times to maintain an even score. Thankfully our competitive spirit won out with the team coming together as one in the fourth quarter with some nice rebounded baskets from Gary Tiscovschi and team captain Eugene Omondi, leaving us with a 14-13 win.
On Friday we started the game with too much pace for the slightly less experienced Skerries team and took an early lead and never really looked back. Yet again captain Eugene Omondi started as he meant to go on with impressive shots and some strong defensive rebounding. Santiago Perez hit a brace of threes and Skerries were caught on fast breaks on a number of occasions to give Balbriggan a 6 point lead at the end of the first half.
The third quarter was where the game was decided as Balbriggan extended the gap and put the game to bed in a stretch of easy but well worked baskets and great defensive plays. Gary Tiscovschi and Emmanuel Kareem came up with key steals and Karolis Vaisnoras hit a wonderful three point shot.
The fourth quarter was just a case of controlling the game and playing out the clock which was all that was necessary and of course allowing some of the others get some court time, with Themba Mwenelpembe scoring a final 2 points just before the clock ran down.
That makes it 2 from 2 and sets the team up with the momentum needed for their next few games.